Faster Than Light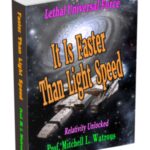 FASTER THAN LIGHT SPEED!  YES!
Scientific theory has retarded scientific progress for centuries. If the USA Space Force and future space travelers are to go forth and survive … they will need to understand and use this new revelation about the greatest danger that exists everywhere in space.
The "Theory of Relativity" presents a seemingly impenetrable roadblock to scientific progress, discovery, and invention … until now … as described in this non-fiction presentation (which is not related to the TV Series 2020 Space Force).
Future space travelers can be killed instantly if scientists are not prepared for the gravity of this hidden but powerful universal force … which absolutely can move faster than the speed of light … and studies of particles within this dimension can open the gateways to understanding quantum physics and much more.
Fresh minds are needed to kick over the trashcans of  "scientific absolutes"  where lazy minds reside … and this new look into empty space reveals many new pathways for the future of safe space travel … out there among the stars where dark matter and dark energy hide out.
Be among the first to find out the truth about "Relativity." Buy this non-fiction book if you want to change your life today … and to preserve the future of humanity out there … for a new tomorrow.
FASTER THAN LIGHT SPEED … FOR REAL!!!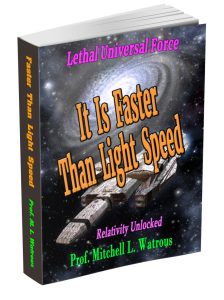 ∗ Note:   This is NOT a Sci-Fi Novel. This is NOT science fiction.
THIS IS SCIENCE FACT!
This new information unlocks the "Theory of Relativity" … but does not violate it.
Sure … scientists like to say that "nothing" can go faster than the speed of light … and that might relieve some of them from thinking.
But, that does NOT make them correct nor superior to everyone else … we know that the Earth is not flat anymore.
Anyway … future space travelers will become painfully aware of  the deadly force that lurks around everywhere in the universe. If they are influenced by intertial forces in any way … the strength and speed of this force can tear them into bits unless they know how to avoid it.
And … it cannot be shielded against … unless, of course, you know how to develop null-force space that overcomes inertia.
Scientists are still working on that ideology … because that is the only way to overcome abrupt speed changes.
Nevertheless, there is still an unrecognized force that can actually move several times the speed of light.
Nope … and this has absolutely nothing to do … with warp speeds or worm holes.
Get ready to be amazed at how simple this observation is … BUT HOW DEADLY IT CAN BE!
Once again … CLICK HERE:  FASTER THAN LIGHT SPEED
Once astronomers and major universities … become aware of this information … it will forever change their
approaches to space travel and exploration! And … they won't be able to say nothing can go faster than the speed of light … anymore!