PP 15-Vol Set
Too real to be science fiction … but how can I know!
Science fiction never seemed so real … how can I tell!
Science fiction you can understand … and think it's real!
Can we really get there from here … maybe it's not fiction!
Space travel necessity … go faster than light or die!
Best sci-fi package books offer in years!
Great news  Sci-Fi Fans,
Best, outstanding science-fiction value on the market today.  Books collected all in one volume!
Get this action-filled 15 book series now for personal use … or as a holiday gift … before it is removed.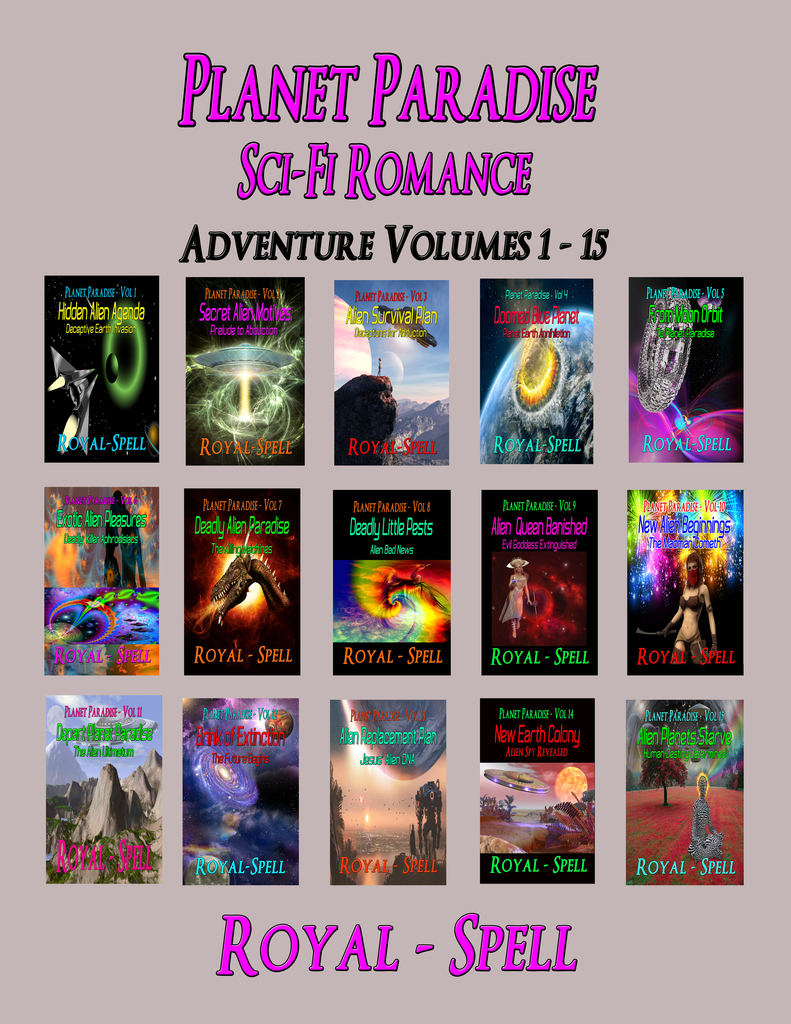 The first section five volumes show preparations and departure from the doomed Earth:
Hidden Alien Agenda – Deceptive Earth Invasion
Secret Alien Motives – Prelude to Abduction
Alien Survival Plan – Deceptions for Abduction
Doomed Blue Planet – Planet Earth Annihilation
From Moon Orbit – To Planet Paradise
The second section five volumes show action and struggles on an exo-Planet Paradise:
Exotic Alien Pleasures – Deadly Killer Aphrodisiacs
Deadly Alien Paradise – The Killing Machines
Deadly Little Pests – Alien Bad News
Alien Queen Banished – Evil Goddess Extinguished
New Alien Beginnings – The Madman Cometh
The third section five volumes show preparations and departure from exo-Planet Paradise:
Depart Planet Paradise – The Alien Ultimatum
Brink of Extinction – The Future Begins
Alien Replacement Plan – Alien DNA
New Earth Colony – Alien Spy Revealed
Alien Planets Starve – Human Destiny Determined
Get it all in one place … in three sections of the Planet Paradise series (i.e., 15 books in one "big book" for only $6 .99). They all seem more like reality than fiction.
But the author assures that this science fiction adventure is not based on any known events … no matter how real they may seem … nor how many ET Experts vigorously  claim they must be true.
Outstanding value for deal seekers. Get this exciting series now for personal use … or as a gift. The digital version is a great deal … with an equivalent value of paying less than 50 cents a book … for 15 volumes (346,000 words)!
Costs less than a cup of coffee and donut … and lasts a whole lot longer!
CLICK HERE to get 15 book volumes in one set:  Planet Paradise Sci-Fi
  (Note: Only $6.99 total as compared to $150 when buying all volumes individually)
PS: Note: The Author is retired college professor. Wrote over 70 books in science, healthcare, fiction, non-fiction, and religious topics. No matter how fast he writes fiction … it seems to become non-fiction quicker!